Welcome to
UP Braj Teerth Vikas Parishad, Mathura
UP Braj Teerth Vikas Parishad has been constituted under the Uttar Pradesh Braj Niyojan Aur Vikas Board (sanshodhan) Adhiniyam 2017 (U.P. Act No. 3 of 2017) for the preparation of a plan for preserving, developing and maintaining the aesthetic quality of Braj heritage in all hues - cultural, ecological and architectural, co-coordinating and monitoring More About Us
MOU with Indian Yoga Association
All the Eminent Yoga schools and Yoga traditions have come together under the Indian Yoga Association, a self-regulatory body of all yoga organizations. Yog Rishi Swami Ramdev ji is the Chairman of the Governing Council that includes Sri. Sri. Ravishankar ji (Founder, Patanjali Yog Peeth, Haridwar), Sadhguru Jaggi Vasudev ji (Founder, Isha Foundation, Coimbatore), Dr Pranav Pandya ji (Chancellor, Dev Sanskriti Vishwavidyalaya, Haridwar), Swami Chidanand Saraswati (Muniji) (President, Parmarth Niketan, Rishikesh), OP Tiwari ji (Secretary General, Kaivalyadham, Lonavla) and Swami Bharat Bhushan ji (Founder, Mokshyatan, Saharanpur) (Sapta Rishis).
Dr HR Nagendra (Chancellor, Swami Vivekananda Yoga Anusandhana Sasmthana, Bengaluru) is the President of the General Body and the Executive Council.
It was decided by the elders that UPBTVP and IYA will enter into a MOU to initiate and develop yoga activities. The following activities were broadly envisaged for the same:
a.

Yoga Village(s) in Braj
An IYA-run center in one or more location which will become showcase of all traditions of Yoga through IYA Member-institutions

b.

Yoga Training Centers

c.

Yoga in Healthcare

d.

Yoga Skilling Programs and Centers

e.

Yoga in Temples

f.

Yoga Tourism

g.

Yoga Economic Zones
and any other yoga-related activities.
The MOU of UPBTVP-IYA can be downloaded here
A Joint Implementation and Coordination Committee was formed chaired by the Vice Chairman, UPBTVP.
In the first meeting of the JICC, some important decisions were made including:
- Setting up JICC, UPBTVP-IYA, Mathura Office.
- About 8 parks in Mathura to be provided with yogashalas for free classes (Patanjali will conduct these classes or anyone else by turn).
You can read the Minutes of the JICC meeting by clicking here
News and Notices
Rejoice the palatable Dessert of Mathura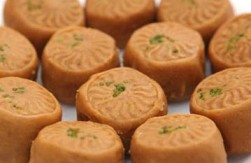 No many may know that Mathura's signature peda owes its origin to a culinary accident. According to local folklore, Bhagwan Das a great devotee of the lord was preparing bhog and he got so involved in his prayer that he completely forgot to take the pot off the stove. Das mixed sugar to the crusty thickened milk, made the offering and distributed it thereafter. And the rest is history. A visit to the temple town is not complete without a box of these round little sweet morsel sized balls stacked tight. More than 1500 peda making units operate in the city, with a combined capacity of 10-15 tons(approx) per day.